Trausse pictured below, is a village, a "commune" in the Minervois, a vineyard area of the Languedoc Roussillon, (now re-named Occitanie being the Midi-Pyrenees region) and the village is at the base of the Montagne Noire well into the south-western part of France. The village itself was founded probably in the 8th or 9th century and has a population of about 400 people. It only received street name signs in the mid 1990s.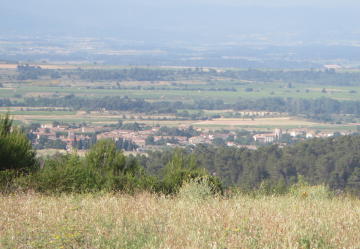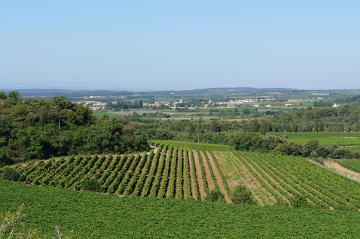 The nearest regional city of Carcassonne (which has the ancient Medieval walled "La Cite") is a half hours drive east of Trausse, while Toulouse is about 1 to 2 hours drive, as well as Montpellier about 2 - 2 hours & fifteen minutes drive.
View of La Cite in the day and again on the night of Bastille Day.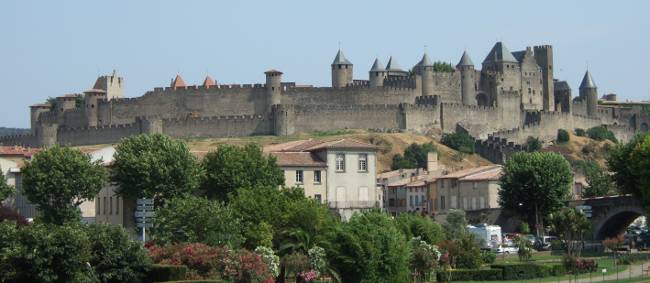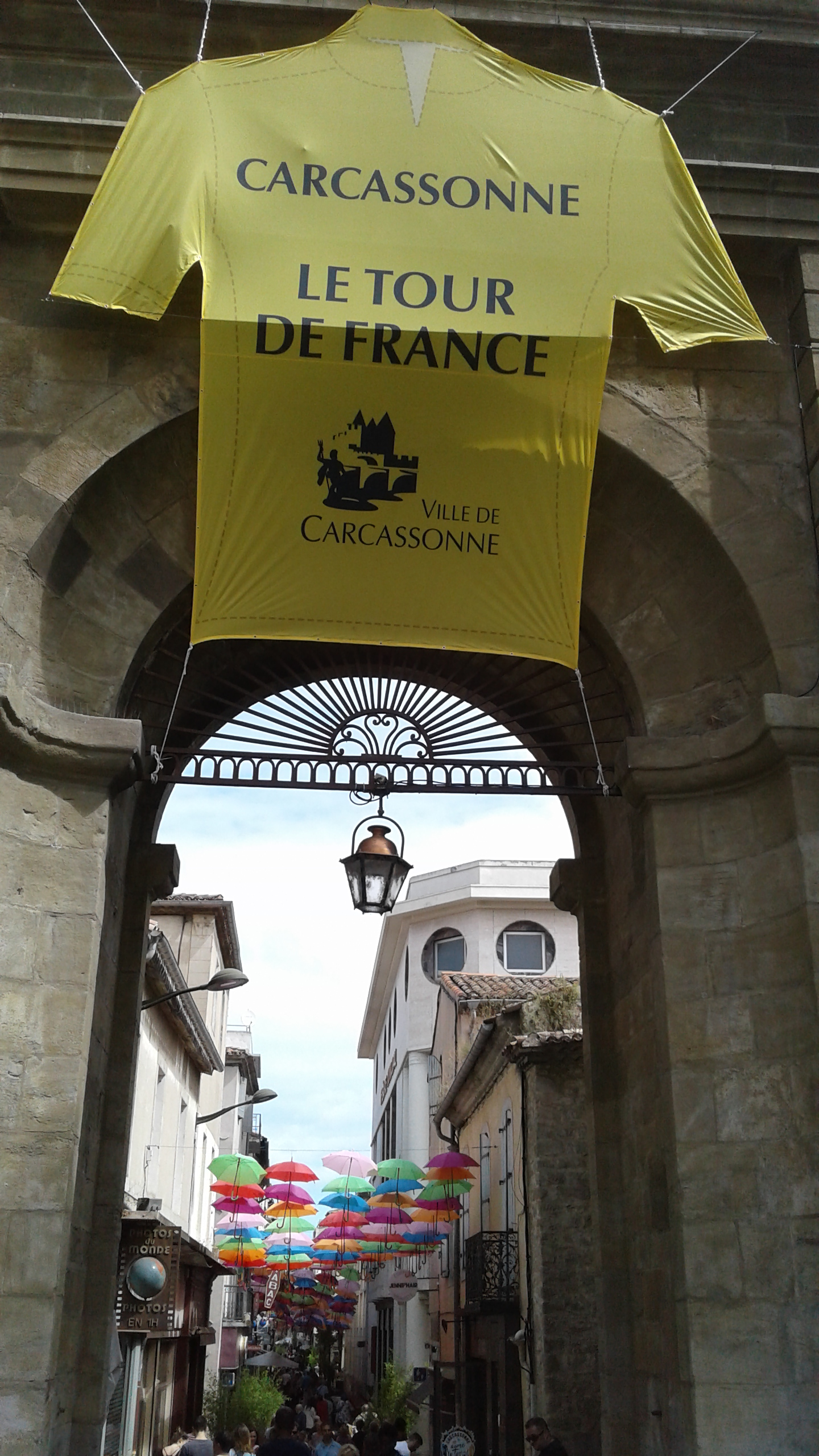 The airports to fly into would be Toulouse or Montpellier for usual type flights (e.g. Lufthansa, KLM, BA, Air France) or Barcelona with Singapore Airlines or Emirates. Easyjet fly from Orly in Paris to Toulouse, & Gatwick London to Toulouse. Ryanair now has flights also to and from Toulouse to various cities in Europe Or Carcassonne for Ryanair from Stansted in London & the Midlands & also from Dublin & other cities. Car rentals agencies are in the three of those airports - is usually easy to deal with any of the agencies direct on the web & sometimes cheaper to deal with ryan air or easyjet car rentals on the web. If you are going to be away for longer than 21 days you can lease either Peugeot, Citroen or Renault (see our Useful Links) which is a lot cheaper in both rental & insurance than normal rent, & take note that diesel (gazole) is the cheaper fuel to buy especially from supermarket fuel outlets.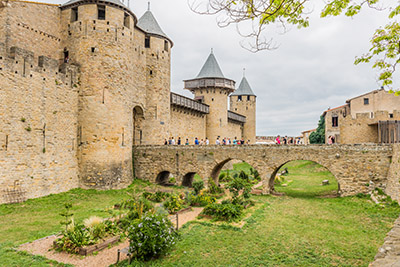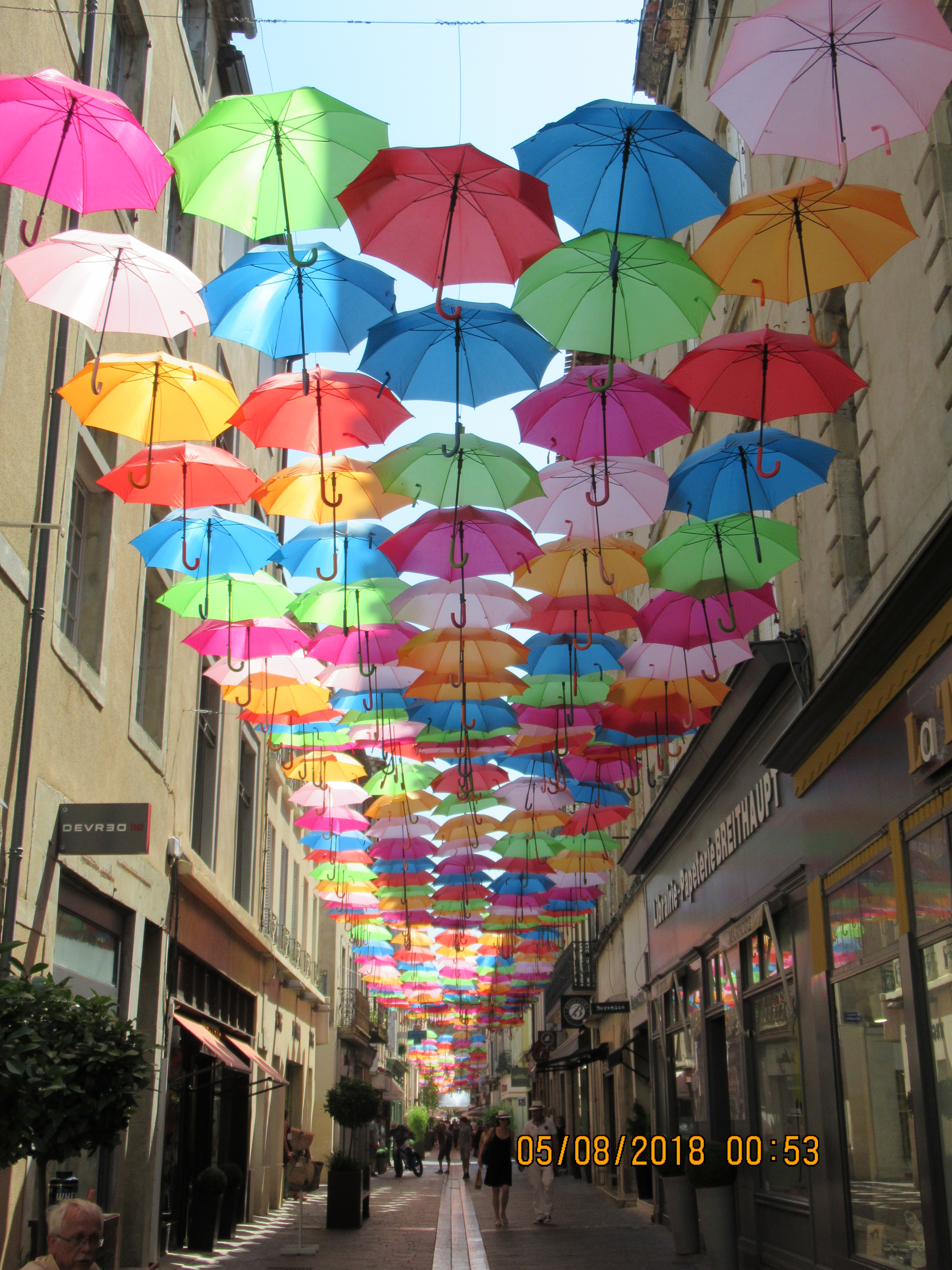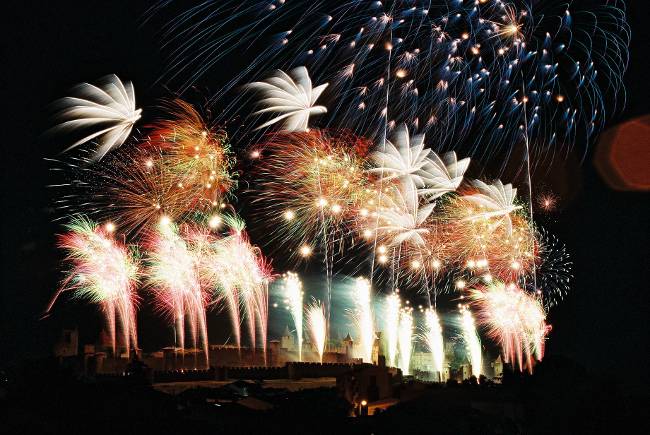 Numerous Castles from the 12th & 13th centuries are all with 1-2 hours drive of Trausse, with the Canal du Midi about 15 minutes away - this is the area of the Cathars. You may want to read up on the Cathar History of the Languedoc - try Stephen O'Shea's book "The Perfect Heresy"- Profile Books 2000 or Zoe Oldenberg's "The Massacre of Montsegur".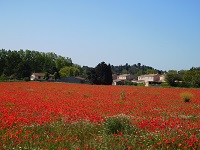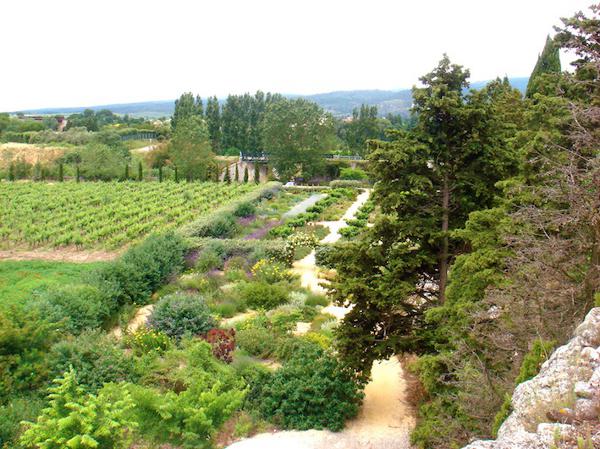 Trausse is completely surrounded by vineyards & has in fact 4 vignerons in the village & is within 10-15 minutes of dozens of wineries where one can also have a "degustation" (tasting). I can book you on a variety of wine/history tours as well as cooking tours (see useful links) when you make a booking in one of the houses. Trausse is situated in a relatively flat valley and for those people who like biking the whole area is extremely suitable.Actually the Tour de France in July each year comes nearby & in fact in 2016 did come through Trausse which was exciting (see photos). Within 15 minutes by car or 60 minutes or so by bike are the foothills of the Montagnes Noires (Black Mountains), where the vineyards still grasp onto the rocky soil and yet the scenery as you ascend is magnificent. By car over the mountains for an 80 minute drive is Castres and a further 20 minutes on is the ancient city of Albi, with the unique Cathedral Ste-Cecile, the Toulouse-Lautrec Museum & the Laperouse Museum not to mention classic shopping. Spain is 110 minutes on the autoroute.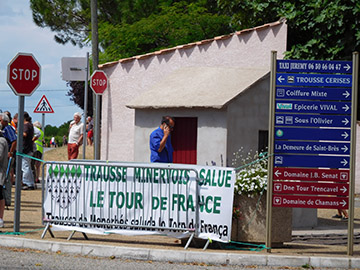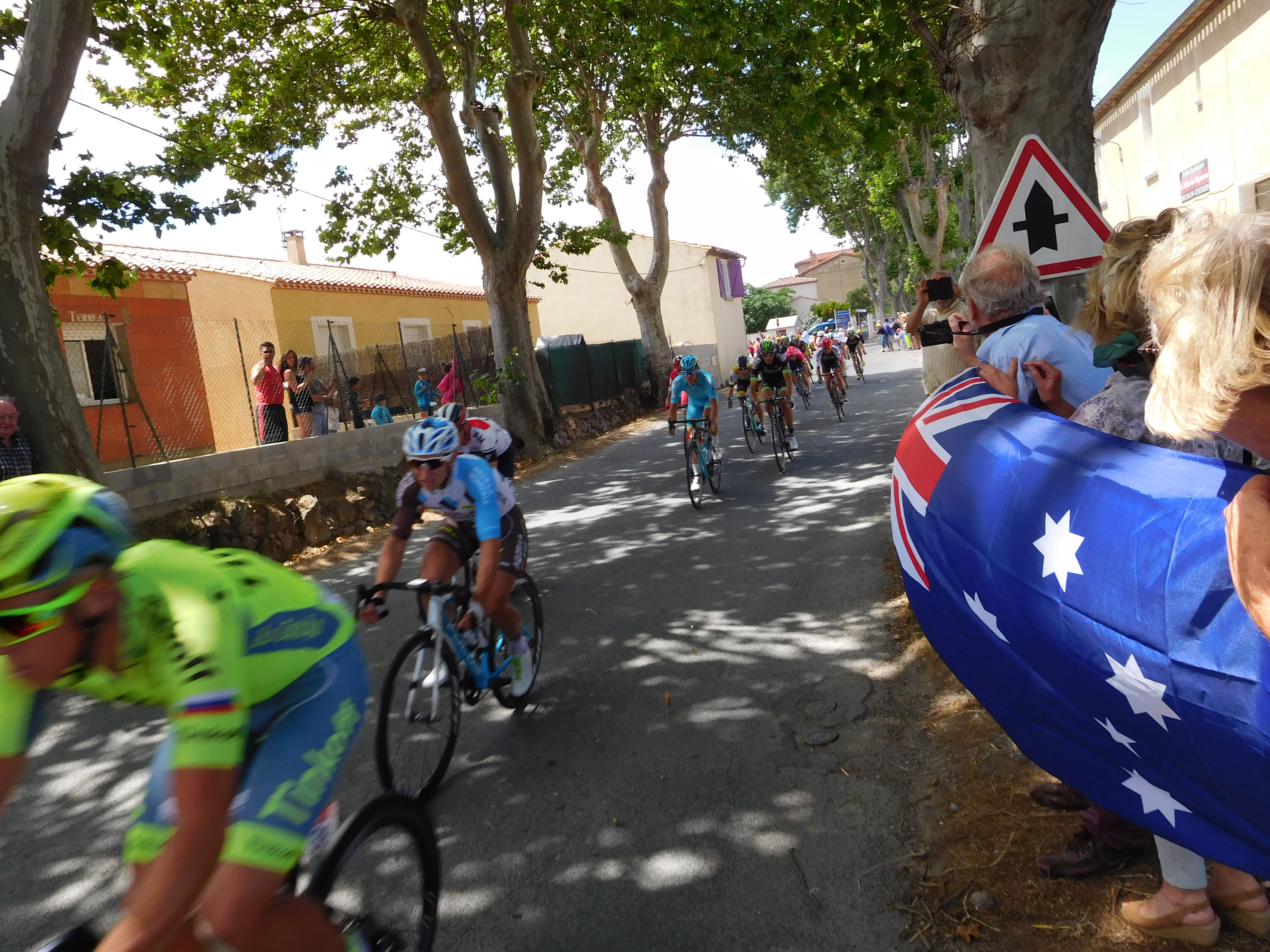 The town of Caunes Minervois with winding streets, ancient Abbey, restaurants and tapas bar is about 3 klms away while Peyriac & Rieux Minervois (both have restaurants & bars) are about 3 kms & 4 kms respectively & the church in Rieux is well worth a visit. The Mediterranean and the beaches of Narbonne (Narbonne Plage) & Gruissan (Gruissan Plage, Les Auygardes) are within 50 minutes drive while the beaches around Leucate & onto Collioure are about 60 + minutes - a far nicer alternative. Lac Jouarres with swimming & water sports is a 20 minute drive for those who want to cool off in summer & there is a public swimming pool in Peyriac Minervois. (Lac Jouarres pics)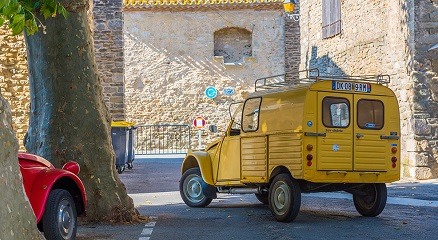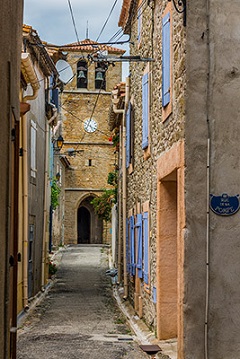 The weather in Trausse can be quite warm late May, to hot in June through to August & again quite warm in September with cool to cold days/evenings in the April-May and September -October time period - it is always necessary to bring a waterproof/windproof type of jacket in case of changes in weather. The winter months of November to March are cold and a heavy coat/jacket/scarf and the use of the fire within the house would be required. It has been known to snow near here, but is not usual.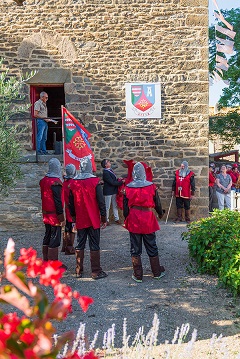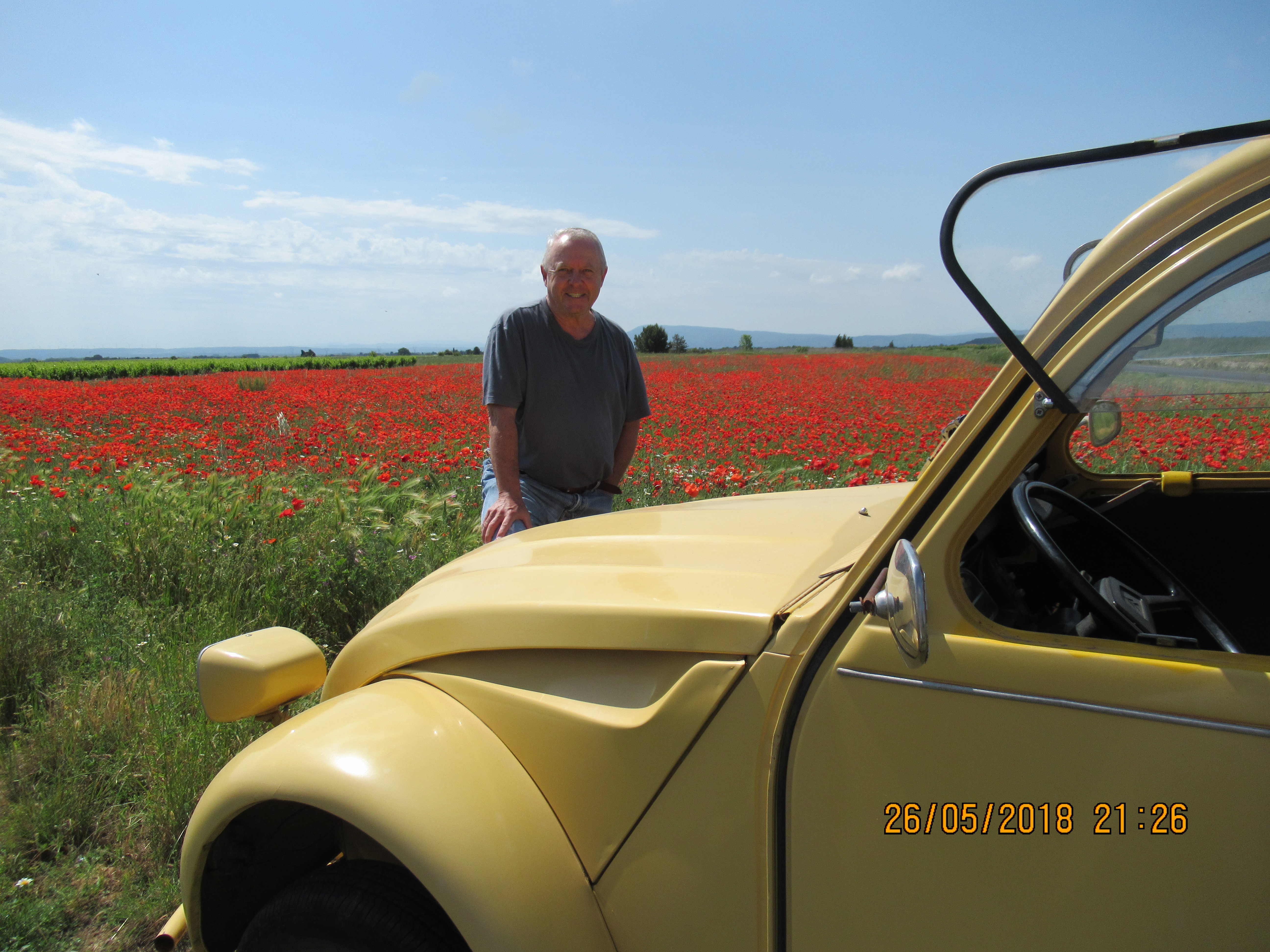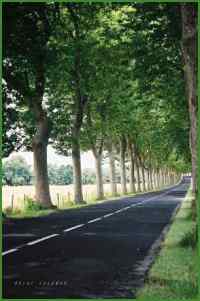 Excellent walking abounds in the mountains with valley and canyon walks or road walks to 10th century churches hidden in valleys deep in the mountains.( More about the walks) The mountains are much cooler in the summer. Likewise the area has several very good eating establishments with Lo Cagorol Restaurant 30 minutes away in the village of Aigne, with menus of 3 courses from approximately 20 Euro per person. Smaller establishments are in adjacent villages and some menus start at approximately 12 Euro per person and can include wine.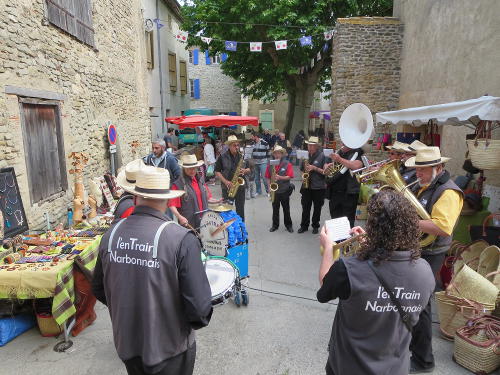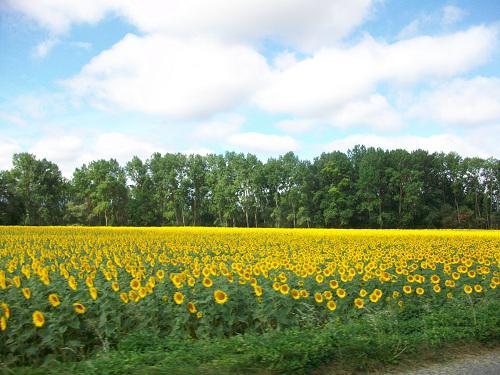 CLICK to see a VIDEO OF BASTILLE DAY 14th July 2014
Trausse has an epicerie called Epicerie de la Tour which opens mornings and most afternoons and is closed on a Monday. Being a general store she sells a mix of things, toiletries,laundry needs, bread, croissants, pastries, and other food products, local wine, as well as fruit and vegetables. There are tables inside and out where you can have a coffee and croissants. On Thursdays, Fridays and Saturdays vendors in vans selling various food visit the village (our own little market). They are announced by loud speaker or sounding of horn. Essentially Trausse is a typical French village with ancient streets, friendly locals, a 12th century Tour (tower) and a central place for parking which is near the houses (about 40 metres) - some of the streets are too narrow for cars to travel. There is a Post Office incorporated in the Maire building and a very good electrical store in the village. Our restaurant La Table des Vignerons has French and Moroccan cuisine. I know 2 caterers in the adjoining village who can provide meals for those not wanting to drive. Their details are given with the information booklet when you have made a booking.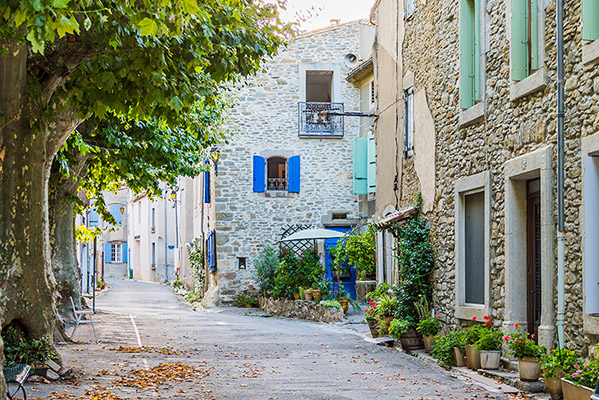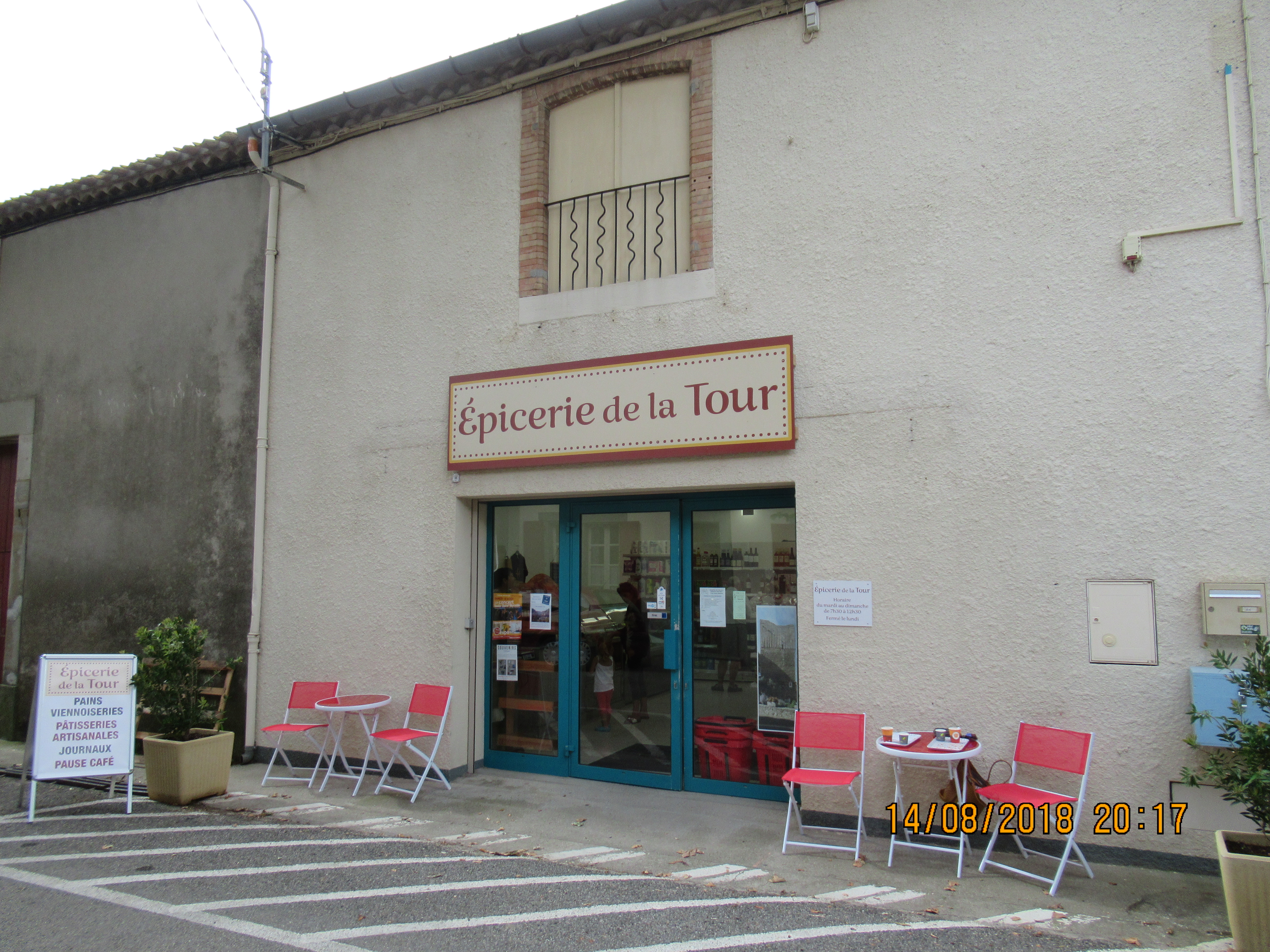 Throughout the year there are various fetes in Trausse or in other villages and these fetes normally have a dinner at night followed by dancing with music provided by a local or nearby band e.g. Trausse cherry festival (usually mid May) where one can buy any cherry product from the delicious cherries grown around the village - boxes or bags of cherries, jams, vinegars etc.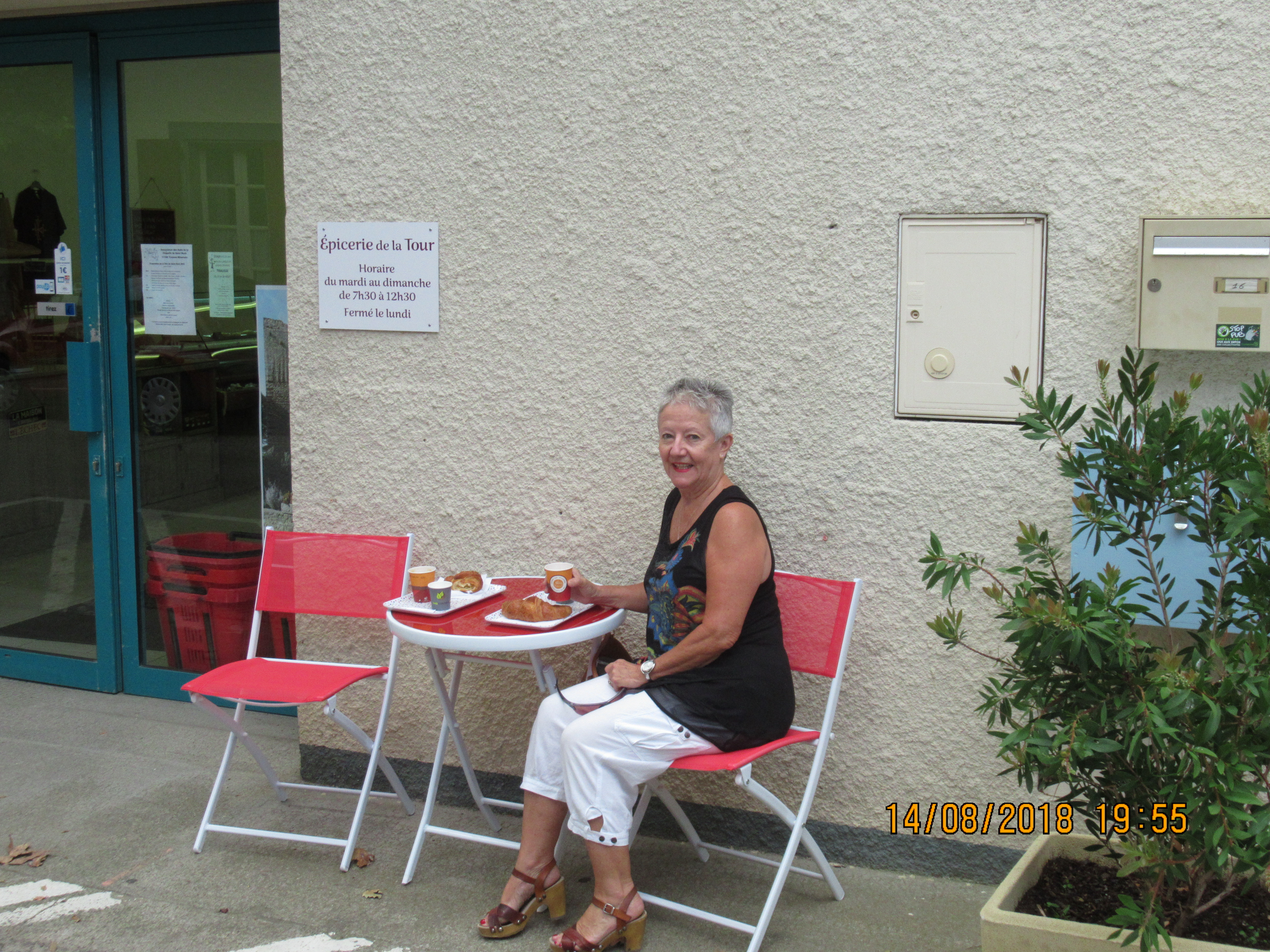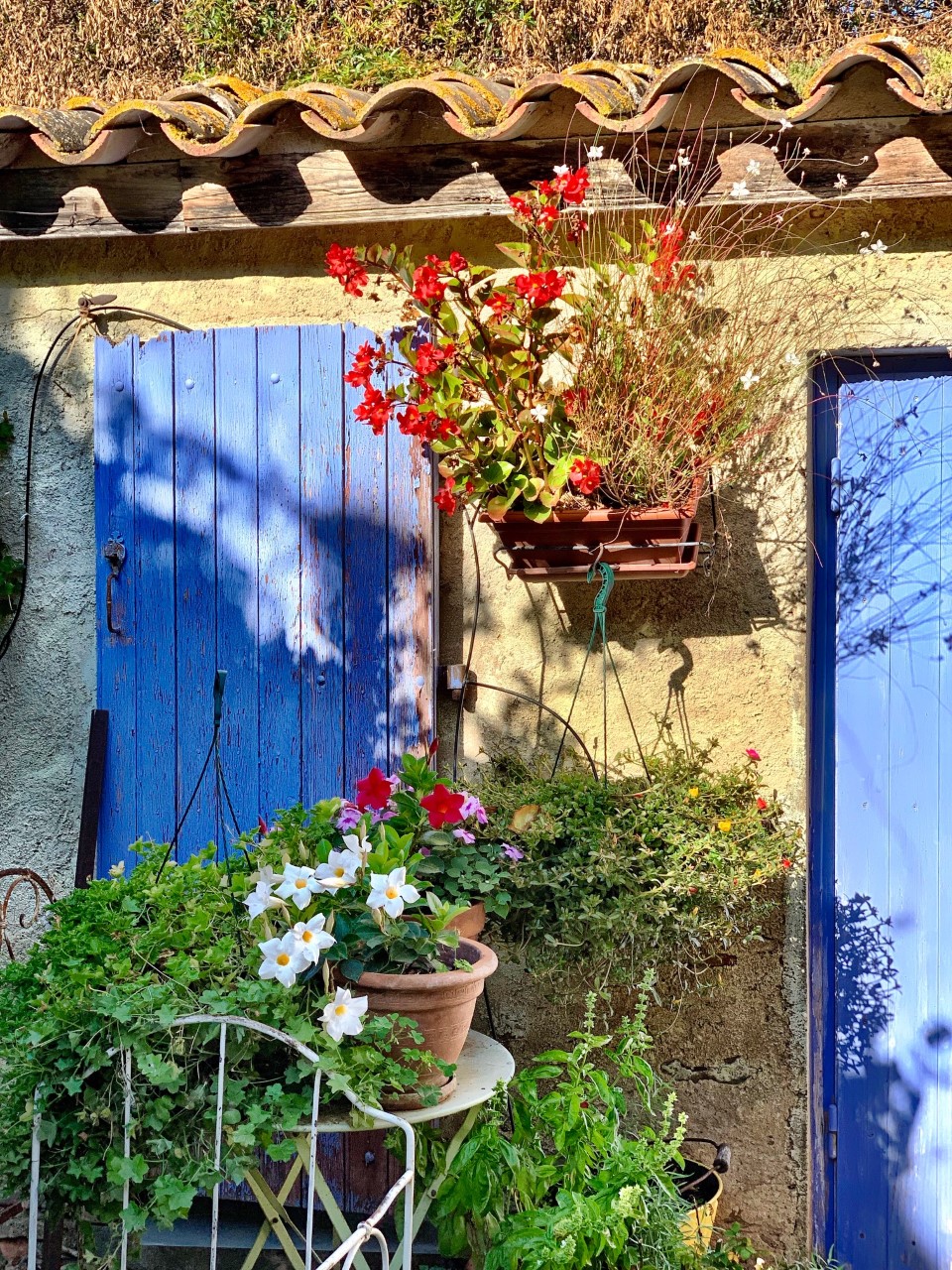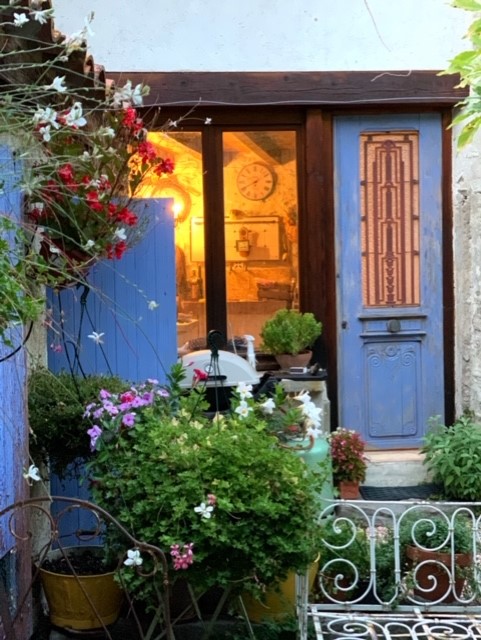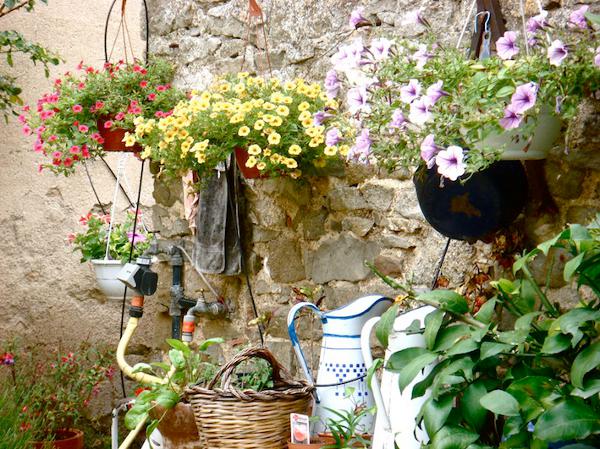 If you are looking for a Casino or trendy night spots then Trausse is NOT for you, but if you want to spend 2-3 days in the car exploring the area, then some time biking or hiking the myriad of back roads and vineyards, doing a tasting etc., attending a cooking class or trying local eating places, taking a ride on the Canal du Midi and meeting the people of this area, then Trausse is for you.